Senior Interviews
Counselors will be finishing their individual senior interviews as Term 1 comes to an end. Seniors have received a packet of information, which focuses on post-secondary planning, to take home and share with their families. Seniors and their families are reminded that October 1st is the starting date for when the FAFSA can be submitted online. Students and one parent/guardian need to apply for a FSA ID to complete the FAFSA process as this serves as their electronic signatures. Directions for obtaining a FSA ID are available by clicking here to access EducationQuest's Blog.
Seniors, as well as juniors, may use the button shown on the left, which is on the Counseling Center website, to schedule a visit with college reps who will be at LSW. There are also sign up sheets available in the Counseling Center.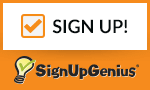 Seniors, as well as other students, and/or their families, who would like to schedule an appointment at LSW with R.J. Vega, a bilingual EducationQuest College Planning and Financial Aid Specialist, may use the button on the right, which is featured on the Counseling Center website to schedule a visit. He will also assist students and families with completing the FAFSA. All services provided by EducationQuest are available at no charge to students and their families. EducationQuest also has an office located at 13th & "O" Street and the phone # there is 402-475-5222.